IEEE Ottawa News
The Carleton University Engineering in Medicine and Biology (EMB) Student Club is honored to be recognized by IEEE EMBS with the North America Regional Award and the Overall Student Chapter […]
Full Article
Upcoming Events
Sep
24
Thu
IEEE Canada Technology Leadership Monthly Webinar
Sep 24 @ 14:00 – 15:00
Date: Sept 24th, 2020
Time: 02:00 PM to 03:00 PM EDT
Speaker: Ken Coates, Professor, University of Saskatchewan
Topic: Technology-Enabled Indigenous and Remote Communities
Registration: https://events.vtools.ieee.org/m/238665 
Summary:
As the COVID-19 Pandemic demonstrated, almost all Indigenous and remote communities suffered from serious infrastructure deficits.  With limited or unreliable Internet, poor quality electricity, and weak health care services, these communities were uniquely vulnerable to the disease and the economic and social challenges that accompanied the pandemic.  But Canadians already knew that Indigenous and remote communities are poorly served and largely lift out of the so-called "innovation economy."  It is time to develop a strategy for bringing technology-enabled opportunities to Indigenous and remote communities.  This webinar presents a model for digitally-enabled Indigenous and remote communities, explores the barriers to implementing this "inversion" of Canadian innovation and that contemplates strategies for addressing quality of life issues in collaboration with residents and local governments.
Biography:
Ken Coates is Canada Research Chair in Regional Innovation at the Johnson-Shoyama Graduate School of Public Policy, University of Saskatchewan. His work focuses on the development of strategies to promote 21st century well-being in small town, rural, Indigenous and remote Canada. Ken's major project examines the potential contributions — and negative impacts — of emerging technologies on rural and remote communities.
For more information and speaking opportunity, please contact, Dr Kexing Liu, IEEE Canada Outreach and Partnership Committee Chair, kexing.liu@ieee.org
Sep
26
Sat
WIE HACK613: The Ottawa Hackathon
Sep 26 @ 14:00 – 17:00
Date and Place: The event will be held online on September 26th and 27th, 2020.
"Every accomplishment starts with the decision to try" ~ John F. Kennedy
What?
New to Hackathons? Are you also interested in participating in IEEEXtreme 14.0? IEEE WIE Ottawa presents the first ever Mock Hackathon in Ottawa! Win Exciting Prizes and get experience with us. No need to think of an idea! The questions will be given to you. Our mentors will further help you to get a head start in your hackathon journey! This is a practice event just for you! Learn more about IEEEXtreme here-> https://ieeextreme.org/
When?
September 26th and 27th, 2020
Where?
The event is fully online including the mentorship*.
Agenda
September 26th, 2020
01:00 PM The opening ceremony
02:00 PM Commencement of Hackathon
05:00 PM Final Submission
September 27th, 2020
01:00 PM Results declaration webinar
01:30 PM Prize announcement
02:00 PM The closing ceremony
For More Details Visit: https://wie.ieeeottawa.ca/hack613-the-ottawa-hackathon/
Sep
28
Mon
Online Talk: From bees to Drones: Exploring bio-inspired machine vision applications for precision agriculture
Sep 28 @ 18:00 – 20:00
Online Talk: From bees to Drones: Exploring bio-inspired machine vision applications for precision agriculture
Bees are used as vectors for pollination and transport of agricultural chemicals in outdoor agriculture and greenhouses. However, in certain situations the use of natural pollinators is problematic. Small unmanned aerial vehicles (UAVs) could serve as an alternate pollination vector in such situations and perform other functions. A step towards the deployment of such a tool is to bring the ability to locate, classify, and analyze flowers aboard a drone.
More info and registration: https://wie.ieeeottawa.ca/event/from-bees-to-drones-exploring-bio-inspired-machine-vision-applications-for-precision-agriculture/.
A presentation by IEEE WIE Ottawa.
Oct
7
Wed
Antenna Arrays Seminar
Oct 7 @ 17:00 – 18:30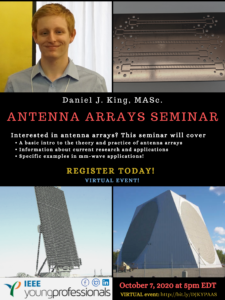 Date: October 7th 2020
Time: 5:00 – 6:30 pm EDT
Venue: Online – http://bit.ly/DJKYPAAS
Event Contact: Daniel J King (danieljamesking3@gmail.com)
IEEE Ottawa Young Professional Affinity Group presents an Antenna Arrays Seminar by MASc. Daniel J. King. Feel free to register and join us in this exciting event. Some of the topics covered are:
A basic introduction to the theory and practice of antenna arrays;
Information about current research opportunities and applications;
Specific examples in mm-Wave applications!
Register today to this virtual event!
More info here: https://www.ieeeottawa.ca/wp-content/uploads/2020/09/antennas.pdf