Events
Jul
17
Wed
GNSS Antennas for Autonomous Vehicles: What You Need to Know!

@ 4359 Mackenzie Building, Carleton University
Jul 17 @ 18:00 – 19:00
GNSS
Antennas for Autonomous Vehicles:
What You Need to Know!
Precise
and reliable positioning recently became a critical property of autonomous
vehicles like drones, driverless cars and more. Tallysman Wireless will explain
why the GNSS antenna is the most important component for accurate positioning
and will present the challenges of selecting the appropriate GNSS antenna for
diverse types of autonomous vehicles. Multiple properties of a GNSS antenna
like its phase center variation, ability to reject interferences or multipath
and sensibility to its environment will be analysed and guide lines will be
proposed.
Refreshments will be served!
Location: 4359 Mackenzie Building, Carleton University.
Map: https://carleton.ca/campus/map/
Time: 6:00 – 7:00 PM
Date: July 17th , 2019
BIOGRAPHY:
Julien
Hautcoeur received the M.Sc. degree in radio communication systems and
electronics from the Ecole Polytechnique of the University of Nantes, Nantes,
France, in 2007 and the Ph.D. degree in signal processing and
telecommunications from the Institute of Electronics and Telecommunications of
Rennes 1, Rennes, France, in 2011. In 2011, he was involved in postdoctoral
training at the University of Quebec in Outaouais (UQO), Gatineau, QC, Canada.
His research field was optically transparent antenna systems for telecommunications.
Since 2014 he works at Tallysman Wireless in Ottawa, Canada and specialized in
the design of high performance GNSS antennas and associated electronics.
GPSPlacement

Aug
19
Mon
Recent Advances in Retinal Imaging!

@ Room 4359, Mackenzie Building
Aug 19 @ 18:00 – 19:30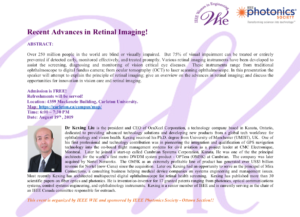 ABSTRACT:
Over 250 million people in the world are blind or visually impaired. But 75% of visual impairment can be treated or entirely prevented if detected early, monitored effectively, and treated promptly. Various retinal imaging instruments have been developed to assist the screening, diagnosing and monitoring of vision critical eye diseases. These instruments range from traditional ophthalmoscope to digital fundus camera; from ocular tomography (OCT) to laser scanning ophthalmoscope. In this presentation the speaker will attempt to explain the principle of retinal imaging; give an overview on the advances in retinal imaging; and discuss the opportunities for innovation in vision care and retinal imaging.
SPEAKER:
Dr Kexing Liu is the president and CEO of OcuXcel Corporation, a technology company based in Kanata, Ontario, dedicated to providing advanced technology solutions and developing new products from a global tech workforce for ophthalmology and vision health. Kexing received his Ph.D. degree from University of Manchester (UMIST), UK. One of his first professional and technology contribution was in pioneering the integration and qualification of GPS navigation technology into the on-board flight management systems for civil aviation as a project leader at CMC Electronique, Montreal. Later he joined a start-up called Cambrian Systems Corporation, Kanata, He was one of the the principal architects for the world's first metro DWDM system product – OPTera (OM5K) at Cambrian. The company was later acquired by Nortel Networks. The OM5K as an extremely profitable line of product has generated over US$3 billion revenue for Nortel (now Ciena) since the acquisition. Later on, Kexing had an opportunity to serve as the principal of Mira Connections, a consulting business helping medical device companies on systems engineering and management issues. Most recently Kexing has architected multispectral digital ophthalmoscope for retinal health screening. Kexing has published more than 30 scientific papers on fiber optics and photonics. He is inventor/co-inventor for 17 granted patents ranging from photonics, optical communications systems, control systems engineering, and ophthalmology instruments. Kexing is a senior member of IEEE and is currently serving as the chair of an IEEE Canada committee responsible for outreach.
This event is organized by IEEE WIE and sponsored by IEEE Photonics Society – Ottawa Section!!
Kexing

Nov
2
Sat
IEEE WIE Lunch and Learn: Security Considerations for Digital Health Technologies

@ Room 118, Leeds House
Nov 2 @ 12:00 – 14:00
Registration is required. Space is limited!
Attending lecture only is FREE, refreshments will be served.
Attending lecture with lunch afterwards:
IEEE WIE Members: FREE
IEEE Members: 10 CAD
Non-members: 12 CAD
Agenda:
12:00 – 01:00 PM: Seminar
01:00 – 02:00 PM: Lunch
Seminar Information:
ABSTRACT:
Given the fast pace of innovation in digital health technologies, specifically in relation to the evolution of medical devices with more complex software and increased network connectivity, a new frontier of cybersecurity vulnerabilities has emerged. As a result, designers of such technologies face many challenges and must consider many inter-related factors that contribute to such an insecure environment.
In this talk, we will identify the key classes of vulnerabilities to which modern medical devices and digital health technologies are exposed, discuss the security and privacy challenges in designing these technologies, and outline some of the defensive measures that can address this complex and multi-faceted problem.
BIOGRAPHY:
Dr. Jason Jaskolka is an Assistant Professor in the Department of Systems and Computer Engineering and the Director of the Cyber Security Evaluation and Assurance (CyberSEA) Research Lab at Carleton University. He received his Ph.D. in Software Engineering in 2015 from McMaster University. His research interests include cybersecurity evaluation and assurance, security-by-design, and formal methods and algebraic approaches for software and security engineering. He is interested in applying his research to critical infrastructures, cyber-physical and distributed systems, and the Internet of Things (IoT).
Lunch Information:
Located on the 3rd Floor Residence Commons, the caf is an all-you-care-to-eat dining hall featuring 14 unique stations that offer a wide variety of food choices. 
More information: https://carleton.campusdish.com/LocationsAndMenus/TheCaf?locationId=5087&storeIds=&mode=Daily&periodId=2084&date=11%2F2%2F2019

flyer