Events
May
30
Thu
Technical Talk: Recent Results and Open Problems in Evolutionary Multiobjective Optimization

@ Colonel By (CBY), Room A-707, University of Ottawa
May 30 @ 18:30 – 20:30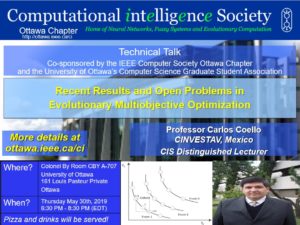 You are invited to the technical talk entitled
Recent Results and Open Problems in 

Evolutionary Multiobjective Optimization
Date
Thursday May 30th, 2019
Time
6:15 PM Arrival and networking (light snacks available)
6:45 PM Approximate start of talk (40-60 mins)
7:45 – 8:00 PM Q&A period
8:00 – 8:30 PM Post-talk networking and discussion
Location
Colonel By (CBY) A-707
Faculty of Engineering
University of Ottawa
161 Louis Pasteur Private, Ottawa, K1N 6N5
admission is free but registration is required on EventBrite
Speaker
Professor Carlos Coello, CINVESTAV-IPN, Mexico, IEEE CIS Distinguished Lecturer

Abstract
Evolutionary algorithms (as well as a number of other metaheuristics) have become a popular choice for solving problems having two or more (often conflicting) objectives (the so-called multi-objective optimization problems). This area, known as EMOO (Evolutionary Multi-Objective Optimization) has had an important growth in the last 15 years, and several people (particularly newcomers) get the impression that it is now very difficult to make contributions of sufficient value to justify, for example, a PhD thesis. However, a lot of interesting research is still under way. In this talk, we will review some of the research topics on evolutionary multi-objective optimization that are currently attracting a lot of interest (e.g., handling many objectives, hybridization, indicator-based selection, use of surrogates, etc.) and which represent good opportunities for doing research. Some of the challenges currently faced by this discipline will also be delineated.
Speaker Biography
Carlos Artemio Coello Coello received a PhD in Computer Science from Tulane University (USA) in 1996. His research has mainly focused on the design of new multi-objective optimization algorithms based on bio-inspired metaheuristics, which is an area in which he has made pioneering contributions. He currently has over 470 publications which, according to Google Scholar, report over 43,900 citations (with an h-index of 83). He has received several awards, including the National Research Award (in 2007) from the Mexican Academy of Science (in the area of exact sciences), the 2009 Medal to the Scientific Merit from Mexico City's congress, the Ciudad Capital: Heberto Castillo 2011 Award for scientists under the age of 45, in Basic Science, the 2012 Scopus Award (Mexico's edition) for being the most highly cited scientist in engineering in the 5 years previous to the award and the 2012 National Medal of Science in Physics, Mathematics and Natural Sciences from Mexico's presidency (this is the most important award that a scientist can receive in Mexico). He is also the recipient of the prestigious 2013 IEEE Kiyo Tomiyasu Award, "for pioneering contributions to single- and multiobjective optimization techniques using bioinspired metaheuristics" and of the 2016 The World Academy of Sciences (TWAS) Award in "Engineering Sciences". Since January 2011, he is an IEEE Fellow. He is also Associate Editor of several journals including the two most prestigious in his area: IEEE Transactions on Evolutionary Computation and Evolutionary Computation. He is currently Vicepresident for Member Activities of the IEEE Computational Intelligence Society (CIS), an IEEE CIS Distinguished Lecturer and Full Professor with distinction at the Computer Science Department of CINVESTAV-IPN in Mexico City, Mexico.
Feb
22
Sat
Technology Stewardship Workshop

@ Vitesse Re-Skilling Canada
Feb 22 @ 18:00 – 20:00
Technological Stewardship is a new concept intended to focus on the promise of technology to create a better future for society today and avoid the negative consequences. While Technologies have the promise to address key issues and create a better future, new developments often amplify inequities and create new kinds of risk. What does this mean for how to move
forward?
Through this interactive 2-hour workshop, you will learn about Technological Stewardship and develop your ability to ensure technology makes the world a better place for all. You will also be introduced to a powerful tool for practically integrating these concepts into the product design/development process.
Facilitator:
Mark Abbott is the Executive Director of the Engineering Change Lab, which serves as a catalyst for evolving the engineering community to reach its full potential as stewards of technology for the benefit of humanity.  Over the past 5 years, over 125 organizations and 350+ individual leaders (CEOs, VPs, Deans, Directors) have collaborated using the Lab's platform advancing understanding and action to evolve engineering. Previously, Mark served as member of the Executive Team at Engineers without borders for several years.
This interactive workshop is limited to 45 attendees so as to create an optimal interactive and learning environment.  This series of workshops is planned to have subsequent workshops taking place in March and April.  We are especially interested in professionals willing to tryout the powerful tools and providing feedback on integrating the concepts into the product design / development process.
Mar
18
Wed
IEEE Ottawa Seminar Series on AI and Machine Learning – The Rise & Foreseeable Future of Artificial Intelligence: Observations from a Commercial Pioneer
Mar 18 @ 11:30 – 13:30
IEEE Ottawa Seminar Series on AI and Machine Learning
IEEE Ottawa Section, PHO Chapter,
CS Chapter, SP Chapter, TEMS Chapter
Jointly with Vitesse
Reskilling
The Rise & Foreseeable Future of
Artificial Intelligence:
Observations from a Commercial Pioneer
Peter MacKinnon
Synergy Technology
Management
—————————————————————-
Wednesday, March 18, 2020
359 Terry Fox Drive, Suite 200, Kanata, Ontario
11:30 – 13:30
—————————————————————-
Artificial Intelligence (AI) is constantly in the news
with stories of promise and peril.
Political leaders have declared it a national priority, the global high
tech industry is racing AI apps to markets and policy and governance
implications of AI are in their infancy.
We will explore where this is all heading.
We will begin with some definitions and a bit of
history behind the rise of AI.  The talk
will then place AI in the context of being a potentially disruptive technology
on society. This will lead to a discussion about ethics and moral issues
regarding the development and use of aspects of AI as a dual-use
technology.  Time permitting, the role of
AI in defence and security will be used as an example for appreciating the
complexity and ethical issues brought on by AI. We will then turn to the role
of the engineer in this new world being enabled by AI.
Finally, we will review potential governance and
policy issues and options to address the rapid unchecked development and
application of AI within society at large; and, ultimately end with a
precautionary note.
Biography
The speaker was
a pioneer in the commercialization of AI in the 1980s and today is actively
involved in ethical and policy issues related to AI.  Peter has an extensive background on the
forefront of scientific and technological breakthroughs around disruptive
technologies and their impacts on society.
He was an early proponent in the development and promotion of Big Data
and data analytics using High Performance Computers, and was a major
contributor in creating the Internet in Canada, among other accomplishments.
Peter has a
background as a scientist, business manager, entrepreneur, domestic and
international bureaucrat, executive, diplomat, management advisor, and
academic; including most recently affiliation with both Telfer School of
Management and the Faculty of Engineering at the University of Ottawa and the
Faculty of Engineering at Carleton University.
Peter also blogs on AI for the Institute on Science, Society and Policy,
an interfaculty organisation at uOttawa.
 
—————————————————————-
Event
is free, but space is limited.  All
participants must register in advance.   
Please
follow the link to register
https://events.vtools.ieee.org/m/226058
—————————————————————-
For
more information, please contact: Kexing Liu kexing.liu@ieee.org