Events
May
30
Thu
Technical Talk: Recent Results and Open Problems in Evolutionary Multiobjective Optimization

@ Colonel By (CBY), Room A-707, University of Ottawa
May 30 @ 18:30 – 20:30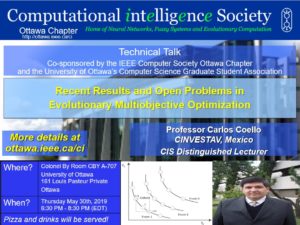 You are invited to the technical talk entitled
Recent Results and Open Problems in 

Evolutionary Multiobjective Optimization
Date
Thursday May 30th, 2019
Time
6:15 PM Arrival and networking (light snacks available)
6:45 PM Approximate start of talk (40-60 mins)
7:45 – 8:00 PM Q&A period
8:00 – 8:30 PM Post-talk networking and discussion
Location
Colonel By (CBY) A-707
Faculty of Engineering
University of Ottawa
161 Louis Pasteur Private, Ottawa, K1N 6N5
admission is free but registration is required on EventBrite
Speaker
Professor Carlos Coello, CINVESTAV-IPN, Mexico, IEEE CIS Distinguished Lecturer

Abstract
Evolutionary algorithms (as well as a number of other metaheuristics) have become a popular choice for solving problems having two or more (often conflicting) objectives (the so-called multi-objective optimization problems). This area, known as EMOO (Evolutionary Multi-Objective Optimization) has had an important growth in the last 15 years, and several people (particularly newcomers) get the impression that it is now very difficult to make contributions of sufficient value to justify, for example, a PhD thesis. However, a lot of interesting research is still under way. In this talk, we will review some of the research topics on evolutionary multi-objective optimization that are currently attracting a lot of interest (e.g., handling many objectives, hybridization, indicator-based selection, use of surrogates, etc.) and which represent good opportunities for doing research. Some of the challenges currently faced by this discipline will also be delineated.
Speaker Biography
Carlos Artemio Coello Coello received a PhD in Computer Science from Tulane University (USA) in 1996. His research has mainly focused on the design of new multi-objective optimization algorithms based on bio-inspired metaheuristics, which is an area in which he has made pioneering contributions. He currently has over 470 publications which, according to Google Scholar, report over 43,900 citations (with an h-index of 83). He has received several awards, including the National Research Award (in 2007) from the Mexican Academy of Science (in the area of exact sciences), the 2009 Medal to the Scientific Merit from Mexico City's congress, the Ciudad Capital: Heberto Castillo 2011 Award for scientists under the age of 45, in Basic Science, the 2012 Scopus Award (Mexico's edition) for being the most highly cited scientist in engineering in the 5 years previous to the award and the 2012 National Medal of Science in Physics, Mathematics and Natural Sciences from Mexico's presidency (this is the most important award that a scientist can receive in Mexico). He is also the recipient of the prestigious 2013 IEEE Kiyo Tomiyasu Award, "for pioneering contributions to single- and multiobjective optimization techniques using bioinspired metaheuristics" and of the 2016 The World Academy of Sciences (TWAS) Award in "Engineering Sciences". Since January 2011, he is an IEEE Fellow. He is also Associate Editor of several journals including the two most prestigious in his area: IEEE Transactions on Evolutionary Computation and Evolutionary Computation. He is currently Vicepresident for Member Activities of the IEEE Computational Intelligence Society (CIS), an IEEE CIS Distinguished Lecturer and Full Professor with distinction at the Computer Science Department of CINVESTAV-IPN in Mexico City, Mexico.
Jul
17
Wed
An Evening with Power Integrity Experts

@ Fidus Systems, Ottawa
Jul 17 @ 17:00 – 19:30
Speaker 1: Hisham Abed, P.Eng., Ericsson
Topic: Power Integrity – Best design practices
Speaker 2: Dr. Ihsan Erdin, Celestica
Topic: Power Integrity Optimization amidst MLCC shortage
Parking: Free
Registration:  Free, and is on a first to reply basis. Preference given to IEEE EMC and CPMT society members. Seating is limited. E-mail reservation is required.
Pizza and soft drinks will be served.
Organizer: Dr. Syed Bokhari, Chairman, IEEE Ottawa
EMC chapter
Syed.Bokhari@fidus.com,
Office :(613) 595 – 0507 Ext. 377, Cell: (613) 355 – 6632
Directions:    www.fidus.com
Oct
22
Tue
The Lightning Phenomenon

@ 4124-ME (Meckenzie Building), Carleton University
Oct 22 @ 12:00 – 13:00
IEEE  Distinguished Lecturer Presentation hosted jointly by the IEEE Ottawa EMC and CASS/SSCS/EDS Chapters:
Speaker  :     Dr. Marcos Rubinstein, Professor, University of Applied Sciences of Western Switzerland
Topic    :     The Lightning Phenomenon
Date     :     Tuesday October 22, 2019
Time     :     12(noon) – 1pm
Location :     4124-ME (Meckenzie Building), Carleton University, 1125 Colonel By Drive, Ottawa – K1S5B6
Registration:  Free, Please E-mail Ram Achar (achar@doe.carleton.ca)
Refreshments: Served
Parking  : Payment based Metered Parking spots in the campus
Organizers:
               Ram Achar, Dept. of Electronics, Carleton University
               Chairman CASS/SSCS/EDS Chapters
               achar@doe.carleton.ca
               Dr. Syed Bokhari, Chairman, IEEE Ottawa EMC chapter
Abstract
Lightning is one of the primary causes of damage and malfunction of telecommunication and power networks and one of the leading causes of weather-related deaths and injuries.
Lightning is composed of numerous physical processes, of which only a few are visible to the naked eye.
This lecture presents various aspects of the lightning phenomenon, its main processes and the technologies that have been developed to assess the parameters that are important for engineering and scientific applications. These parameters include the channel-base current and its associated electromagnetic fields.
The measurement techniques for these parameters are intrinsically difficult due to the randomness of the phenomenon and to the harsh electromagnetic environment created by the lightning itself.
Besides the measurement of the lightning parameters, warning and insurance applications require the real-time detection and location of the lightning strike point. The main classical and emerging lightning detection and location techniques, including those used in currently available commercial lightning location systems will be described in the lecture. The newly proposed Electromagnetic Time Reversal technique, which has the potential to revolutionize lightning location will also be presented.
Biography
Marcos Rubinstein received the Master's and Ph.D. degrees in electrical engineering from the University of Florida, Gainesville.
In the decade of the 1990's, he worked as a research engineer at the Swiss Federal Institute of Technology, Lausanne and as a program manager at Swisscom in the areas of electromagnetic compatibility and lightning. Since 2001, he is a professor at the University of Applied Sciences of Western Switzerland HES-SO, Yverdon-les-Bains, where he is currently responsible for the advanced Communication Technologies Group. He is the author or coauthor of 300 scientific publications in reviewed journals and international conferences. He is also the coauthor of nine book chapters and the co-editor of a book on time reversal. He served as the Editor-in-Chief of the Open Atmospheric Science Journal, and currently serves as an Associate Editor of the IEEE Transactions on EMC.
Prof. Rubinstein received the best Master's Thesis award from the University of Florida, the IEEE achievement award and he is a co-recipient of the NASA's Recognition for Innovative Technological Work award. He also received the ICLP Karl Berger award. He is a Fellow of the IEEE and an EMP Fellow, a member of the Swiss Academy of Sciences and of the International Union of Radio Science.