Events
May
30
Thu
Technical Talk: Recent Results and Open Problems in Evolutionary Multiobjective Optimization

@ Colonel By (CBY), Room A-707, University of Ottawa
May 30 @ 18:30 – 20:30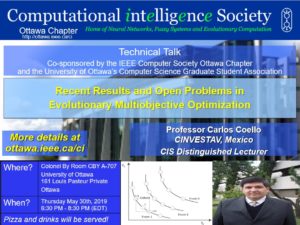 You are invited to the technical talk entitled
Recent Results and Open Problems in 

Evolutionary Multiobjective Optimization
Date
Thursday May 30th, 2019
Time
6:15 PM Arrival and networking (light snacks available)
6:45 PM Approximate start of talk (40-60 mins)
7:45 – 8:00 PM Q&A period
8:00 – 8:30 PM Post-talk networking and discussion
Location
Colonel By (CBY) A-707
Faculty of Engineering
University of Ottawa
161 Louis Pasteur Private, Ottawa, K1N 6N5
admission is free but registration is required on EventBrite
Speaker
Professor Carlos Coello, CINVESTAV-IPN, Mexico, IEEE CIS Distinguished Lecturer

Abstract
Evolutionary algorithms (as well as a number of other metaheuristics) have become a popular choice for solving problems having two or more (often conflicting) objectives (the so-called multi-objective optimization problems). This area, known as EMOO (Evolutionary Multi-Objective Optimization) has had an important growth in the last 15 years, and several people (particularly newcomers) get the impression that it is now very difficult to make contributions of sufficient value to justify, for example, a PhD thesis. However, a lot of interesting research is still under way. In this talk, we will review some of the research topics on evolutionary multi-objective optimization that are currently attracting a lot of interest (e.g., handling many objectives, hybridization, indicator-based selection, use of surrogates, etc.) and which represent good opportunities for doing research. Some of the challenges currently faced by this discipline will also be delineated.
Speaker Biography
Carlos Artemio Coello Coello received a PhD in Computer Science from Tulane University (USA) in 1996. His research has mainly focused on the design of new multi-objective optimization algorithms based on bio-inspired metaheuristics, which is an area in which he has made pioneering contributions. He currently has over 470 publications which, according to Google Scholar, report over 43,900 citations (with an h-index of 83). He has received several awards, including the National Research Award (in 2007) from the Mexican Academy of Science (in the area of exact sciences), the 2009 Medal to the Scientific Merit from Mexico City's congress, the Ciudad Capital: Heberto Castillo 2011 Award for scientists under the age of 45, in Basic Science, the 2012 Scopus Award (Mexico's edition) for being the most highly cited scientist in engineering in the 5 years previous to the award and the 2012 National Medal of Science in Physics, Mathematics and Natural Sciences from Mexico's presidency (this is the most important award that a scientist can receive in Mexico). He is also the recipient of the prestigious 2013 IEEE Kiyo Tomiyasu Award, "for pioneering contributions to single- and multiobjective optimization techniques using bioinspired metaheuristics" and of the 2016 The World Academy of Sciences (TWAS) Award in "Engineering Sciences". Since January 2011, he is an IEEE Fellow. He is also Associate Editor of several journals including the two most prestigious in his area: IEEE Transactions on Evolutionary Computation and Evolutionary Computation. He is currently Vicepresident for Member Activities of the IEEE Computational Intelligence Society (CIS), an IEEE CIS Distinguished Lecturer and Full Professor with distinction at the Computer Science Department of CINVESTAV-IPN in Mexico City, Mexico.
Nov
12
Tue
5G for Smart Everything: From Smart Meters to the New Power Grid. What is needed to get there?

@ Building M-36, National Research Council (NRC) Canada
Nov 12 @ 14:00 – 15:00
Title: 5G for Smart Everything: From Smart Meters to the New Power Grid. What is needed to get there ?
Speaker: Akshay Sharma, Executive Research Fellow, neXtCurve: www.next-curve.com
Date/Time: Tuesday, November 12, 2019, from 2 – 3 pm.
Admission: Free, but registration is required for security purposes. Please contact by e-mail: branislav @ieee.org or ajit.pardasani@ieee.org.
Abstract: This talk discusses how 5G with Edge Computing, and Ultra-low latency (sub-5ms) with Gigabit speed bandwidth will be a game changer with Smart Meters and a new Electric Grid can be enabled with Smart Lamposts. As we transition to DevOps, AIOps, newer Closed Loop Automation systems will occur. As we connect AI-powered Virtual Personal Assistants to IoT devices in the home, now we have to imagine the entire macro-infrastructures being all hyper-connected. What is needed to get there will be discussed at the seminar.

Speaker's Bio: Akshay Sharma is originally from Ottawa, B. Eng Computer Systems Engineering from Carleton, a tech analyst, formerly from Gartner, having authored or co-authored over 280 research notes, on emerging technologies like SD-WAN, 5G, mobile video, cloud CDN, IoT, etc. in the past decade. A frequent speaker at tech events, he is often quoted in leading institutions like CNN, Wall St. Journal, etc. He is a former CTO of one of the first video/WiFi smartphone firms, former Chief Architect at Siemens Mobile, and has been given awards by the NJ IEEE Chapter on talks he gave on 5G and Cybersecurity. He is on the tech advisory board for 5G and DevOps startups: LB-N, Kovair, along with others. Mr Sharma's recent publications include: Search Results for "akshay" – neXt Curve
Mar
17
Tue
[CANCELLED] IEEE Ottawa seminar on Microgrid Stability Definitions, Analysis, and Modeling

@ Algonquin College, T-Building, Room T129
Mar 17 @ 18:00 – 19:30
NOTE: This event has been cancelled due to COVID-19 precautions
Dear colleagues,
Due to the current situation regarding corrona virus COVID-19, we have to CANCEL our IEEE Ottawa Section Seminar:
"Microgrid Stability Definitions, Analysis, and Modeling"
by Dr. Mostafa Farrokhabadi,
which was scheduled for Tuesday, Mar. 17, 2020, 6:00 p.m., at Algonquin College, 1385 Woodroffe Ave., T-Building, Room T129.
The new date and time for this seminar will be determined and announced when the circumstances allow.
We are sorry for the inconvenience and thank you for your understanding.
Sincerely,
Branislav Djokic
TITLE: Microgrid Stability Definitions, Analysis, and Modeling
SPEAKER: Dr. Mostafa Farrokhabadi, Director of Technology at BluWave-ai, Ottawa
DATE:     Tuesday, March 17, 2020.
TIME:     Refreshments, Registration and Networking: 6:00 p.m.; Seminar: 6:30 p.m. – 7:30 p.m.
LOCATION: Ciena Optophotonics Lab, Room T129, T-Building, School of Advanced Technology, Algonquin College, 1385 Woodroffe Ave., Ottawa, ON Canada K2G 1V8.
PARKING: Parking at Lots 8 and 9 after 5 p.m. is $5 flat rate, pay at a machine and display the ticket on your dashboard. Please respect restricted areas.
Abstract: A microgrid is defined as a group of Distributed Energy Resources (DERs) and loads that act locally as a single controllable entity and can operate in both grid-connected and islanded modes. Microgrids are considered a critical link in the evolution from vertically integrated bulk power systems to smart decentralized networks, by facilitating the integration of DERs. Entities, such as government agencies, utilities, military bases, and universities around the world are deploying microgrids, and an increasing number of these systems are expected to be developed in the next decade. In general, stability in microgrids has been treated from the perspective of conventional bulk power systems. However, the nature of the stability problem and dynamic performance of a microgrid are considerably different than those of a conventional power system due to intrinsic differences between microgrids and bulk power systems, such as size, feeder types, high share of Renewable Energy Sources (RES), converter-interfaced components, low inertia, measurement devices such as Phase-Locked Loop (PLL), unbalanced operation, etc.
This seminar discusses the findings of the award-winning IEEE PES Task Force on Microgrid Stability Definitions, Analysis, and Modeling, which defines concepts and identifies relevant issues related to stability in microgrids. The seminar presents definitions and classification of microgrid stability, considering pertinent microgrid features such as voltage-frequency dependence, unbalancing, low inertia, and generation intermittency. A few examples will be also presented, highlighting some of the stability classes discussed during the seminar.
Speaker's Bio: Dr. Mostafa Farrokhabadi is the Senior Director of Technology at BluWave-ai, an internationally award-winning startup offering AI-enabled control and optimization solutions for smart grids. He has more than 8 years of experience in designing mission critical grid solutions for industry and academia, including technical leadership of a $6M international consortium in Electric Grid Modernization, and Smart Grid projects with Hatch and Canadian Solar. Mostafa has authored/co-authored several high-impact technical papers and patents on intelligent control and optimization of renewable-penetrated grids.
Mostafa obtained his PhD in Electrical and Computer Engineering from the University of Waterloo. He has also studied and performed research in Sweden at KTH and Germany at KIT. During the course of his career, Mostafa has received multiple business, research, and teaching awards, including the prestigious University of Waterloo Doctoral Thesis Completion Award and Ottawa's Forty Under 40.
Mostafa has also led the award-winning IEEE Power and Energy Society Task Force on microgrid stability, an international coalition of 21 researchers from 14 institutions investigating stability issues in microgrids. Currently, he serves as an Associate Editor of the IEEE Transactions on Smart Grid.
Admission: Free. Registration required. Please register by e-mail contacting: ajit.pardasani@ieee.org or branislav@ieee.org.
IEEE_MFarrokhabadi_Seminar_Flyer_17Mar2020