Events
May
18
Sat
Present Around The World (PATW) Competition

@ 1125 Colonel By Dr, Ottawa, ON K1S 5B6
May 18 @ 11:00 – 13:00
The PATW is a global competition for Young professionals and students within engineering to develop and showcase presentation skills. Membership to the IET is not a requirement to enter, but you must be 18-30 years of age and be prepared to;
Deliver a 10 minute presentation on any engineering or technology related area. Enhance your knowledge, develop your skills, increase your profile, and open doors for your career.
For more details see : https://www.theiet.org/PATW
Contact kyle.manel@ietvolunteer.org for event information and/or for registration.
May
30
Thu
Technical Talk: Recent Results and Open Problems in Evolutionary Multiobjective Optimization

@ Colonel By (CBY), Room A-707, University of Ottawa
May 30 @ 18:30 – 20:30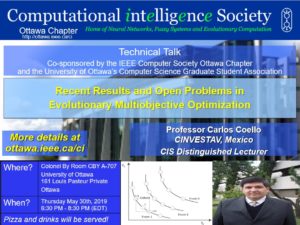 You are invited to the technical talk entitled
Recent Results and Open Problems in 

Evolutionary Multiobjective Optimization
Date
Thursday May 30th, 2019
Time
6:15 PM Arrival and networking (light snacks available)
6:45 PM Approximate start of talk (40-60 mins)
7:45 – 8:00 PM Q&A period
8:00 – 8:30 PM Post-talk networking and discussion
Location
Colonel By (CBY) A-707
Faculty of Engineering
University of Ottawa
161 Louis Pasteur Private, Ottawa, K1N 6N5
admission is free but registration is required on EventBrite
Speaker
Professor Carlos Coello, CINVESTAV-IPN, Mexico, IEEE CIS Distinguished Lecturer

Abstract
Evolutionary algorithms (as well as a number of other metaheuristics) have become a popular choice for solving problems having two or more (often conflicting) objectives (the so-called multi-objective optimization problems). This area, known as EMOO (Evolutionary Multi-Objective Optimization) has had an important growth in the last 15 years, and several people (particularly newcomers) get the impression that it is now very difficult to make contributions of sufficient value to justify, for example, a PhD thesis. However, a lot of interesting research is still under way. In this talk, we will review some of the research topics on evolutionary multi-objective optimization that are currently attracting a lot of interest (e.g., handling many objectives, hybridization, indicator-based selection, use of surrogates, etc.) and which represent good opportunities for doing research. Some of the challenges currently faced by this discipline will also be delineated.
Speaker Biography
Carlos Artemio Coello Coello received a PhD in Computer Science from Tulane University (USA) in 1996. His research has mainly focused on the design of new multi-objective optimization algorithms based on bio-inspired metaheuristics, which is an area in which he has made pioneering contributions. He currently has over 470 publications which, according to Google Scholar, report over 43,900 citations (with an h-index of 83). He has received several awards, including the National Research Award (in 2007) from the Mexican Academy of Science (in the area of exact sciences), the 2009 Medal to the Scientific Merit from Mexico City's congress, the Ciudad Capital: Heberto Castillo 2011 Award for scientists under the age of 45, in Basic Science, the 2012 Scopus Award (Mexico's edition) for being the most highly cited scientist in engineering in the 5 years previous to the award and the 2012 National Medal of Science in Physics, Mathematics and Natural Sciences from Mexico's presidency (this is the most important award that a scientist can receive in Mexico). He is also the recipient of the prestigious 2013 IEEE Kiyo Tomiyasu Award, "for pioneering contributions to single- and multiobjective optimization techniques using bioinspired metaheuristics" and of the 2016 The World Academy of Sciences (TWAS) Award in "Engineering Sciences". Since January 2011, he is an IEEE Fellow. He is also Associate Editor of several journals including the two most prestigious in his area: IEEE Transactions on Evolutionary Computation and Evolutionary Computation. He is currently Vicepresident for Member Activities of the IEEE Computational Intelligence Society (CIS), an IEEE CIS Distinguished Lecturer and Full Professor with distinction at the Computer Science Department of CINVESTAV-IPN in Mexico City, Mexico.
Feb
20
Thu
Digital Marketing – Tools and Methodologies

@ RA Centre
Feb 20 @ 19:30 – 21:00
Digital Marketing — Tools and Methodologies
Joint presentation IEEE Ottawa Section Consultants Network and IET Ottawa LN

Not your Grandmother's Marketing – The impact of SaaS and AI
 Since Google's arrival on the scene in the late 1990's,
marketing took a turn to digital, never to look back again.  With the proliferation of technologies such
as Artificial Intelligence, and novel business models like
Software-as-a-Service (SaaS), marketing tools and techniques continue to
rapidly evolve.  Our eyes glued to
screens of devices of all sizes, we are at the same time a willing victim and a
reluctant participant in the marketing dance in both our professional and
personal lives.  These combined bring a
huge democratization of marketing for businesses, allowing for successful
growth in the most unlikely locations.
Speaker: Dobrila Rancic Moogk
Dobrila is VP Marketing at Giatec Scientific, an IoT company
revolutionizing concrete testing.
Through her work in and with start-ups on strategic marketing, Dobrila's
passion for accelerating commercialization of innovation results in significant
growth and scale-up.  This is combined
with her drive to lead her university students to stellar career starts by
passing on her cutting-edge SaaS marketing skills to the next generation of
business leaders.
 Over her 25 years'
experience in the high-tech industry spanning North America
and Europe, she held marketing and R&D leadership
positions with dynamic corporations such as Bell-Northern Research, LSI
Logic, and MOSAID, among others.  Dobrila
has a BSEE, as well as Master of Engineering, and MBA degrees from University
of Ottawa.
 She is a member of
the Board of Directors of Invest Ottawa and Bayview Yards, the Community Impact
Cabinet at United Way East Ontario,
past chair of Volunteer Ottawa, and past vice-chair of the Women in Engineering
and Computer Science at University of
Ottawa.