Events
Sep
28
Mon
Online Talk: From bees to Drones: Exploring bio-inspired machine vision applications for precision agriculture
Sep 28 @ 18:00 – 20:00
Online Talk: From bees to Drones: Exploring bio-inspired machine vision applications for precision agriculture
Bees are used as vectors for pollination and transport of agricultural chemicals in outdoor agriculture and greenhouses. However, in certain situations the use of natural pollinators is problematic. Small unmanned aerial vehicles (UAVs) could serve as an alternate pollination vector in such situations and perform other functions. A step towards the deployment of such a tool is to bring the ability to locate, classify, and analyze flowers aboard a drone.
More info and registration: https://wie.ieeeottawa.ca/event/from-bees-to-drones-exploring-bio-inspired-machine-vision-applications-for-precision-agriculture/.
A presentation by IEEE WIE Ottawa.
Oct
7
Wed
Antenna Arrays Seminar
Oct 7 @ 17:00 – 18:30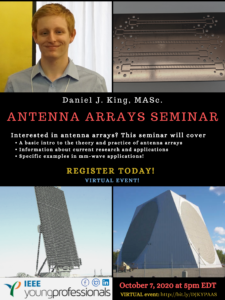 Date: October 7th 2020
Time: 5:00 – 6:30 pm EDT
Venue: Online – http://bit.ly/DJKYPAAS
Event Contact: Daniel J King (danieljamesking3@gmail.com)
IEEE Ottawa Young Professional Affinity Group presents an Antenna Arrays Seminar by MASc. Daniel J. King. Feel free to register and join us in this exciting event. Some of the topics covered are:
A basic introduction to the theory and practice of antenna arrays;
Information about current research opportunities and applications;
Specific examples in mm-Wave applications!
Register today to this virtual event!
More info here: https://www.ieeeottawa.ca/wp-content/uploads/2020/09/antennas.pdf