Events
Oct
7
Wed
Antenna Arrays Seminar
Oct 7 @ 17:00 – 18:30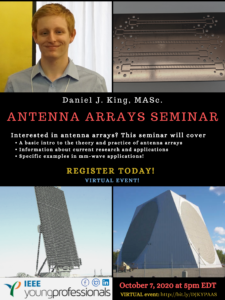 Date: October 7th 2020
Time: 5:00 – 6:30 pm EDT
Venue: Online – http://bit.ly/DJKYPAAS
Event Contact: Daniel J King (danieljamesking3@gmail.com)
IEEE Ottawa Young Professional Affinity Group presents an Antenna Arrays Seminar by MASc. Daniel J. King. Feel free to register and join us in this exciting event. Some of the topics covered are:
A basic introduction to the theory and practice of antenna arrays;
Information about current research opportunities and applications;
Specific examples in mm-Wave applications!
Register today to this virtual event!
More info here: https://www.ieeeottawa.ca/wp-content/uploads/2020/09/antennas.pdf